MolSSI Software Scientist: Dr. Jessica Nash
---
The MolSSI's Education Lead, Dr. Jessica Nash, has long been an advocate for education, science outreach, and public service. As a graduate student at NC State in Materials Science and Engineering, she spent time volunteering as a Girl Scout troop leader and serving on the executive board of the university's Graduate Student Association.
As a PhD candidate, Jessica conducted computational research under the direction of Prof. Yaroslava Yingling, but also worked with experimentalists in Prof. Thom LaBean's lab to develop software for examining DNA origami designs—which is in part how she became intrigued by further software development. As a result, she spent a portion of summer 2013 and 2017 in Aarhus, Denmark, with Prof. LaBean's group, which in addition to enhancing her technical skills also further cemented her love of travel and outdoor activities—for instance, midnight kayaking off Denmark's east coast. Jessica continues to brings her passion for outreach, education, and community involvement to the MolSSI—and especially to the role of Software Scientist and Education Lead.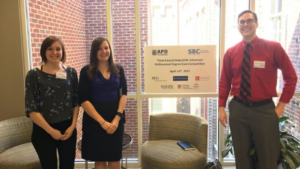 Jessica joined the MolSSI in 2017 as a Software Scientist tasked with new project development; she became Education Lead in December 2018. As Education Lead, she directs the MolSSI's education efforts, including developing new course material and teaching workshops, such as the biennial MolSSI Software Summer School and MolSSI's Best Practices Workshop, among others. MolSSI Education covers a broad scope; recently Jessica and Software Scientist Dr. Benjamin Pritchard partnered to teach a two-credit hour course on software development and molecular science to UC Berkeley's Masters of Molecular Science and Software Engineering program. One of Jessica's favorite tasks as Education Lead, however, is teaching an annual computational chemistry workshop in collaboration with the Tapia Center at Rice University. As a woman in STEM and a first-generation college student, Jessica is committed to science-centered outreach toward undergraduates that will increase the participation of women and underrepresented groups in the STEM fields. Happily, during the last Tapia Workshop female participation was higher than 50%!
Another aspect of working with the MolSSI that Jessica particularly enjoys is the opportunity to meet with (pre- and post-pandemic, of course) and teach scientists around the world. The MolSSI's webinars have drawn a global audience, and travel for workshops has taken her to many places. Regardless of location, Jessica always sets aside some time to see the local sights, such as visits to The British Museum in London, the Andy Warhol Museum in Pittsburgh, Niagara Falls in Buffalo, or attending an Astros Game while in Houston. It should also be noted The Manchester United Football Club in the UK now has a supporter in Blacksburg. After she and MolSSI Associate, Prof. Ashley Ringer McDonald (Cal Poly) concluded their Python instruction for two dozen Pfizer, Inc. employees in the south of England in December 2019, the two hopped a train to Manchester, donned their red scarves, and cheered them on to victory.
Drs. Nash and Ringer McDonald also recently completed two more online workshops for Pfizer, Inc.  During Dr. McDonald's sabbatical at the MolSSI in 2019, the two women partnered to develop the MolSSI's Python Data and Scripting workshop, and continue to work together to teach graduate students, postdocs, and professionals.  When asked to comment on Jessica's contributions to the MolSSI as Education Lead, Dr. McDonald had this to say: "Under Jessica's leadership, MolSSI Education has grown to an amazing resource to support computational science education at all levels.  She has worked hard to connect with a diverse range of stakeholders, from faculty who work with undergraduate researchers to graduate students who need to enhance their programming skills to industry partners, in order to really find out what educational resources would benefit them. The MolSSI Educational resources and workshops are nationally recognized for their quality and usefulness."
Jessica's skills extend beyond designing and delivering course content. She also currently works with MolSSI colleagues on SEAMM (Simulation Environment for Atomistic and Molecular Modeling), which is designed to provide a straightforward environment for simulations, enable better reproducibility and replicability, and promote reuse and interoperability. She continues to add to her list of publications as well—most recently as one of three co-authors (with Virginia Tech's Prof. Valerie Welborn and MolSSI Software Scientist, Dr. Taylor Barnes) on ELECTRIC: Electric fields Leveraged from multipole Expansion Calculations in Tinker Rapid Interface Code. And like all MolSSI Software Scientists, she mentors several Software Fellows on an ongoing basis.
In her personal life, Jessica looks for opportunities to travel—most recently to Greece in late 2019 where the sisters celebrated a birthday—and is a devotee of running and yoga, which, if truth be told, helps to offset her love of green salsa and chips from Moe's. According to Ashley, "More than any other person I have ever known, she is always on the lookout for a Moe's when we are out teaching workshop!"